For many around Europe, October will be synonymous with autumnal oranges and yellows, falling leaves, and Halloween fancy dress. But for those who work in hospitality, October brings with it the industry's leading international event. That's why, from 20 to 24 October 2017, Milan will once again become the "capital of professional hospitality."
As specialists in hospitality ourselves, we certainly wouldn't want to miss this landmark occasion to showcase how we view the changed kitchen and laundry arenas. So with Host 2017 just around the corner, here's why you should be planning to pay us a visit.
1. Relationships come first
At Electrolux, we see the world changing – and we want to share our findings and showcase smart solutions that can help businesses to adapt to these new scenarios within the hospitality sector. By maintaining relationships with our partners and consultants, Host allows us to demonstrate the support we can offer to any kitchen and laundry, new or replacement project.
Outlining how we can help businesses to achieve this most easily, which packages and services they need, and how we bring innovation to market will be key to our messaging throughout the event. Through the combined digital and physical experiences on offer, we can create additional value for the people who really matter to us – our customers and industry partners all over the world.
2. Addressing the big issues
Rising costs and shrinking footprints are just two of the many challenges facing our hotels and restaurants. Chefs, hoteliers and even laundry operators are also looking to strike that all-important work-life balance, and this is another area where we think we can help.
Our pledge to champion the changed kitchen and laundry will allow visitors to find out how they can achieve their desired outcomes with ease, through a combination of exclusive demonstrations and immersive digital experiences.
3. The destination for kitchen AND laundry professionals
We all know the hospitality industry is diverse to say the least, but the sheer variety of technologies staff rely on day-to-day is extraordinary. This makes Host the perfect arena for us to bring together our products and expertise in both foodservice and laundry. From commercial kitchen equipment designed to achieve unmatched results with minimal waste, to the most flexible and sustainable commercial laundry equipment, visitors can see it all for themselves.
4. Our latest solutions can really drive businesses forward
Over the last 12 months alone, we've produced a cooking range as big on style as it is on performance. We've developed a must-have solution for the quick service restaurants (QSR) sector. We've made it possible for kitchen staff to wash one rack of dishes with just one glass of water. We've launched the only refrigerated counter with Class A efficiency and Climate Class 5 performance. And that's before we even mention our game-changing alternative to dry cleaning. All of these (and more) will be available for you to explore in detail at the show.
5. The numbers speak for themselves
More than 150,000 professionals.
Over 170 countries.
2,010 exhibitors.
14 pavilions.
No wonder Host is the favourite destination of the industry's top players!
Why not set up your personal reminder for HOST 2017 and join us to see exactly how we're making businesses leaner, healthier, and ultimately more profitable?
Alberto Zanata, President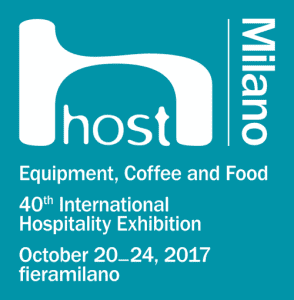 5 reasons to visit Electrolux Professional at Host 2017
2017-10-10T13:33:34+02:00